Excerpts From This Article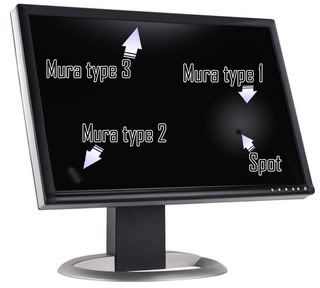 "
Mura Effect type 1
corresponds to a lack of homogeneity in control circuit adjustments. From one cell to another color control can change and it will lead to permanent defects in intensity in displayed images.
Mura Effect type 2
, or Cell Gap Mura comes in two forms. If liquid crystal cell sizes are superior to the normal size in an area of the panel, the images produced in this area will be brighter. This is a White Mura. In the opposite way, if the cell size is too small, it will be darker. This is a Black Mura. Cell distortions sometimes come from a « normal » defect in manufacturing, but most of the times are due to an impurity in the panel such as dust, a drop of some chemical or an accidental ionisation of liquid crystals, which then misalign. For the first two cases, it is possible to move the defect by gently pressing the panel with your fingers to move the Mura to the side from a useful area in the screen. In the case of ionisation, the defect can fade or even disappear with time. For us it was the opposite with the appearance of a Mura on two monitors after a few years of use (three and five years, respectively). It looks as if you were pushing on the screen with your fingers except now it´s permanent.
Mura Effect type 3
is related to distance or defects between the panel and liquid crystals. This occurs when the panel is sealed and side pressure is imperfect. If it´s too strong, cells are crushed and there is a bright halo in a corner along the panel."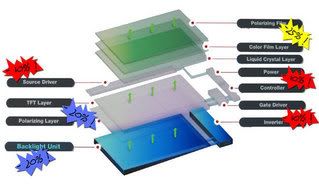 (Images taken from
here
)
Price-slashing could be a culprit in the Mura effect. Is Sony is cutting costs on the quality of the parts, on their flagship top-of-the-line LCD tv no less? It is outright unacceptable.